Manufacturing products and services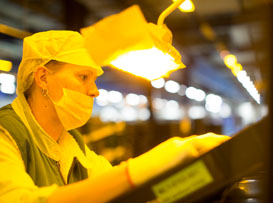 Consumables manufacturing
Canon Bretagne produces toner cartridges on premises with specially controlled atmosphere and lighting conditions. The sensitivity of the product requires a strictly controlled environment (temperature, humidity, dust, light). Since 2011, Canon Bretagne also ensures the manufacturing and the filling of toner bottles, which are used for large copiers.
Recycling toner cartridges used
At the same time, Canon Bretagne recycles Canon cartridges collected throughout Europe. Used cartridges are either disassembled so that the parts can be re-used or ground up for the recycling of materials or energy recovery. Grinding and automatic sorting of materials make it possible to recover metals such as steel, aluminium, or plastic.
Services
Canon Bretagne offers its know-how and experience to the companies through various services including the telemarketing activity (qualification of files, appointment booking, survey…) and can also take over their after-sales service (hotline, repair centre, logistics…).
Industrial partnership
Canon Bretagne is extending the scope of its activities by making its expertise available to companies wishing to out-source their production.
Our teams industrialize products, from feasibility studies to the disposal at end-of-life, ensuring the various intermediate steps. Its services extend from approval to after sales service through the supplying, manufacturing of parts, assembly, testing and shipping. In summary, Canon Bretagne can support totally or partially the creation of new products.